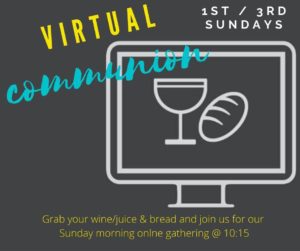 COMMUNION @ LIFE COMMUNITY
On the 1st and 3rd Sundays of each month as well as the annual Feast days (Easter, Pentecost , and Christmas), we celebrate together the Sacrament of Communion. Why is Communion so important to us and How does Communion make a difference in the body of Life Community Church?
First, Communion is much more than a Religious Symbolic Ceremony for us. It is a Dynamic Relational part of our Worship as a community who are following Jesus and pursuing the life God has created us for. When we come to Communion we believe the Holy Spirit is present to each of us. And that as we pray and examine our individual lives before taking Communion, God assures us in these mysteries that we are a part of the Kingdom of God. 
Secondly, our participation together in Communion creates a Common Union with one another and with our Father in Heaven. We enter it as a time of Celebration in which we proclaim his Redemption, declare our Interdependence upon Jesus, and receive God's Provision as a means for living life to the full.
Then Jesus declared, "I am the bread of life. He who comes to me will never go hungry, and he who believes in me will never be thirsty.  (John 6:35)