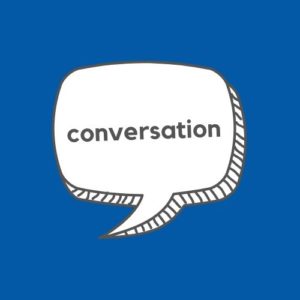 Conversations @ Life Community
We determined early on that there is no way to accomplish our primary goal of building true Community without establishing Connections. And somewhere on this journey we realized that a community of connections begins with just one real life Conversation between two or three people.
When we think of that word conversation, we are talking about an exchange, sharing something with and receiving something from, another human being. This, it seems to us, is the beginning of connection and community which can lead to Real Life in a myriad of ways.
At Life Community we use two adjectives to describe an RLC (Real Life Conversation): Meaningful and Significant. Look, all of us enjoy talking about the trivial matters of life and we've had a lot of practice, but research shows for most adults (unlike children) we tend to hide the truth of who we are from others. Pretending should not be an adult skill set!
Now at this point it is critical for me to note that we do not consider ourselves arbiters of conversational topics. However, we realize we should all be self checking to see "what is the mix of conversational topics I find myself engaging in?"
That's an important question because it challenges us to vet our conversations, to look deeper at what matters most to us as we go about living life this week, this month, this year.
When we get on that track, remaining present to meaningful and significant conversations can introduce any of us to a piece of REAL LIFE!